We're getting closer and closer to the 2018 San Diego Comic-Con, and the /Film team will be on site learning all the latest updates about upcoming blockbuster movies and all your favorite nerdy TV shows you can't stop binging. We've already got a line on the panel line-up for Thursday and what's in store for fans on Friday. Now the full San Diego Comic-Con 2018 schedule for Saturday, July 21 has arrived, and it's likely to be the most exciting day of the convention.
This year's Saturday line-up for Comic-Con sadly doesn't include Marvel Studios, but it's bound to still be an exciting day with the full Warner Bros. Pictures panel bringing Aquaman, Shazam and Wonder Woman 1984 to the table. Otherwise, the day will also feature Supergirl, Arrow, The Flash, Black Lightning and DC's Legends of Tomorrow, as well as the premiere of an uncut version of Deadpool 2 and a 25th anniversary screening The Nightmare Before Christmas.
Check out the panels of interest in the Comic-Con 2018 schedule for Saturday, July 21 below.
Saturday, July 21
Steven Universe
Did you hear that Cartoon Network is bringing Steven Universe back to Comic-Con? You'd better believe it! Estelle (Garnet), Michaela Dietz (Amethyst), Deedee Magno Hall (Pearl), Zach Callison (Steven), and the true diamond authority series creator Rebecca Sugar will share insights about the show and make epic announcements. Even more exciting: Rebecca is bringing her ukulele!
Saturday July 21, 2018 10:00am – 10:50am
Indigo Ballroom
Avatar: The Last Airbender Legend and Legacy
The story of Aang and Korra has ended in one form, but it continues in graphic novels and through the fans. Moderated by Avatar_Mom, the panel showcases fan talent and conversations with a panel of professionals from the series. This year cosplayer Victor Sgroi (the cabbage merchant), Giancarlo Volpe (director, ATLA; producer, Green Lantern: The Animated Series), Aaron Ehasz (head writer, Avatar: The Last Airbender), Jack DeSena (voice actor, Sokka), and Dante Basco (voice actor, Zuko) will share stories and marvel with the fandom. They will also hosts a cosplay contest open to all levels of skill.
Saturday July 21, 2018 10:00am – 11:00am
Room 25ABC
Warner Bros. Pictures
Get a first look at the studio's highly anticipated future releases. Films and special panelists TBA.
Saturday July 21, 2018 10:30am – 12:30pm
Hall H
Black Lightning: Special Video Presentation and Q&A
Jefferson Pierce (Cress Williams) made his choice: He hung up the suit and his secret identity years ago. But with crime and corruption spreading like wildfire, and those he cares about in the crosshairs of the menacing local gang The One Hundred, he must return as Black Lightning to save not only his family but also the soul of his community. Series stars and producers give an electrifying look at season 2! In addition to Williams, the supercharged series stars China Anne McClain, Nafessa Williams, Christine Adams, Marvin "Krondon" Jones III, Damon Gupton, and James Remar. Based on the characters from DC, Black Lightning is from Berlanti Productions and Akil Productions, in association with Warner Bros. Television, with executive producers Greg Berlanti, Salim Akil, Mara Brock Akil, and Sarah Schechter. Black Lightning returns this fall to The CW on Tuesdays (9/8c).
Saturday July 21, 2018 11:00am – 11:45am
Ballroom 20
NBC's The Good Place
From creator Michael Schur and Universal Television comes the critically acclaimed and unique afterlife comedy series about what it means to be a good person. Stars Ted Danson, Kristen Bell, William Jackson Harper, Jameela Jamil, D'Arcy Carden, and Manny Jacinto and executive producers Michael Schur, Morgan Sackett, and Drew Goddard will hold a forking great conversation.
Saturday July 21, 2018 11:00am – 11:50am
Indigo Ballroom
Costume Design for Television and Film
ostume Designers Guild members Sanja Hays (costume designer, Captain Marvel, Star Trek: Beyond), Amanda Riley (costume designer, Supergirl, Agents of S.H.I.E.L.D.), Joseph Porro (costume designer, The Orville, Stargate, Independence Day), and Laura Jean Shannon (costume designer, Titans, Black Lightning, Jumani: Welcome to the Jungle) discuss the process behind designing costumes for some of the most exciting productions on television and in film.
Saturday July 21, 2018 11:00am – 12:00pm
Room 23ABC
The Simpsons
The Simpsons' team looks ahead to their 30th(!) season with creator Matt Groening, executive producer Al Jean, legendary director David Silverman, actress Tress MacNeille, and moderator Johnathan Fernandez. Warning: There will be prizes!
Saturday July 21, 2018 12:00pm – 12:45pm
Ballroom 20
Krypton
After a mind-blowing season 1 finale that saw Krypton's history drastically rewritten, the future of Superman has never been in greater jeopardy. The cast and creators of SYFY's hit series discuss the many surprises of the first season and give an inside look into what fans can expect in season 2.
Saturday July 21, 2018 12:00pm – 12:50pm
Indigo Ballroom
Production Designer: Architect of the Imagination
The production designer reads 100 pages of nothing-but-words-on-paper and then must literally dream up the most perfect of all possible worlds in which the tale should take place. Though the story may be set in some mythic past, the here and now, or some nearly unimaginable future, it's always human emotion rendered in color and composition. And following that, the designer must gather and organize an army of artists who, over months or years, in plaster or in pixels, will somehow render that design for the big screen. Featuring Richard Bridgland (The Commuter, American Ultra), Scott Chambliss (Guardians of the Galaxy Vol. 2, Tomorrowland), Howard Cummings (Westworld, Percy Jackson & the Olympians: The Lightning Thief), Naomi Shohan (A Wrinkle in Time, The Walk), and moderator John Muto (Home Alone, Species).
Saturday July 21, 2018 12:00pm – 1:00pm
Room 23ABC
Big Hero 6: The Series – Heroes Return
Executive producers and cast of Disney Channel's animated superhero comedy series discuss Big Hero 6: The Series. Executive producers Mark McCorkle, Robert Schooley, and Nick Filippi (Kim Possible, Penguins of Madagascar) will be joined by the original actors from the feature film who have joined the show, including Scott Adsit (Veep, 30 Rock), Ryan Potter (Titans, Big Hero 6), Jamie Chung (The Gifted, Gotham, The Hangover 2, Suckerpunch), Genesis Rodriguez (Run All Night, Identity Theft, Man on a Ledge, Tusk, Casa de Mi Padre), plus new cast members Brooks Wheelan (Saturday Night Live, Comedy Central's The Half Hour) and Khary Payton (The Walking Dead, Teen Titans Go!, Transformers: Robots in Disguise, Young Justice). Panelists will discuss bringing the feature film to life for TV, introduce you to exciting new characters, and play never-before-seen footage from the series.
Saturday July 21, 2018 12:30pm – 1:30pm
Room 6A
Matt Taylor: Most of the Posters I Have Made
Matt Taylor (illustrator of this year's SDCC souvenir book cover), Rob Jones (Mondo creative director) and a mystery second panelist talk about most of the posters Matt has made in the last five years of working with Mondo and some other things too. Matt, Rob and the mystery second panelist learn about the process of making movie posters and a take part in a Q&A.
Saturday July 21, 2018 12:30pm – 1:30pm
Room 8
American Dad!
It's a Smith Family Funday with "Francine" (Wendy Schaal), "Steve" (Scott Grimes), "Klaus" (Dee Bradley Baker) "Snot" (Curtis Armstrong), "Barry" (Eddie Kaye Thomas), Toshi (Daisuke Suzuki) and executive producer Matt Weitzman, who will treat American Dad! fans to a first look at scenes from all new episodes coming soon to TBS. You won't want to miss it!
Saturday July 21, 2018 1:00pm – 1:45pm
Ballroom 20
IFC's Stan Against Evil
John C. McGinley, Janet Varney, Nate Mooney, Deborah Baker Jr. and executive producer Dana Gould share an exclusive sneak peek of the upcoming season of IFC's horror comedy series Stan Against Evil, followed by a discussion about what lies ahead for the town of Willard's Mill in season 3. The panel, like the show, is guaranteed to be a hell-larious good time.
Saturday July 21, 2018 1:00pm – 2:00pm
Room 7AB
The 19th Annual Animation Show of Shows
See an exceptional array of inspiring animated shorts from around the world. Producer and curator Ron Diamond will present the program and answer questions following the showing. The Hollywood Reporter's John LeFore wrote, "An exceptional program that starts off strong and only gets better as it goes, the 19th Annual Animation Show of Shows overflows with charm while containing more provocative observations about the nature of existence than most prestige feature films do."
Saturday July 21, 2018 1:00pm – 2:30pm
Hall H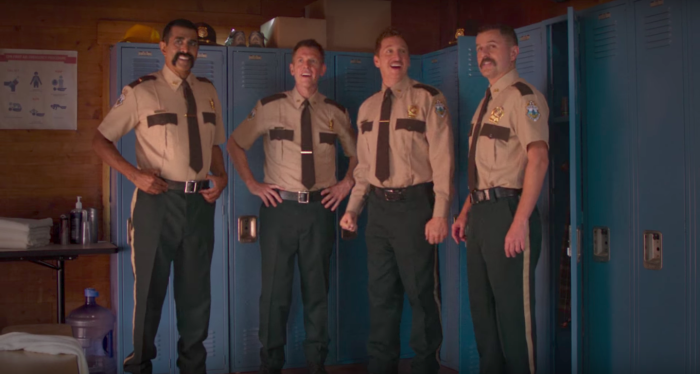 Super Troopers 2 with Broken Lizard
Jay Chandrasekhar, Kevin Heffernan, Steve Lemme, Paul Soter, and Erik Stolhanske discuss the fan-funded film phenomenon Super Troopers 2. Get a behind-the-scenes look at the making of the film and a first look at hilarious deleted scenes from the all-new Blu-ray with moderator Steve Weintraub (Collider.com).
Saturday July 21, 2018 1:30pm – 2:30pm
Horton Grand Theatre
Family Guy
Cast (Seth MacFarlane, Alex Borstein, Seth Green, Mike Henry) and executive producers (Rich Appel, Alec Sulkin, Steve Callaghan) from FOX's hit animated comedy Family Guy look back at their favorite family memories and offer a sneak peek featuring hilarity and hi-jinx from the upcoming season!
Saturday July 21, 2018 1:45pm – 2:15pm
Ballroom 20
Legacies Exclusive Video Presentation and Q&A
Continuing the tradition of The Vampire Diaries and The Originals, Legacies is the third installment of this supernatural series about witches, vampires, and werewolves. The story follows 17-year-old Hope Mikaelson (daughter of Klaus Mikaelson) along with Alaric Saltzman and his twins at the Salvatore School for the Young and Gifted as they come of age in the most unconventional way. Executive producer Julie Plec and series stars Danielle Rose Russell and Matthew Davis show a special video presentation followed by a Q&A. From My So-Called Company, Alloy Entertainment, Warner Bros. Television, and CBS Television Studios, Legacies airs this fall on The CW, Thursdays 9/8c.
Saturday July 21, 2018 2:00pm – 2:50pm
Indigo Ballroom
The Gifted
From 20th Century Fox Television in association with Marvel Television, season 2 of The Gifted picks up after the explosion of the Atlanta Station. The Mutant Underground search for their friends and family who left with The Inner Circle. Having tracked them outside of Washington, D.C., they must contend with new groups with extreme ideologies, both human and mutant alike, to stave off a brewing conflict. Executive producers Matt Nix and Jeph Loeb and stars Stephen Moyer, Sean Teale, Jamie Chung, Emma Dumont, Blair Redford, Natalie Alyn Lind, and Skyler Samuels show an exclusive first look at the upcoming season. Returning Tuesdays this fall on FOX. See an extended season 2 sneak peek!
Saturday July 21, 2018 2:30pm – 3:15pm
Ballroom 20
Midnight, Texas Season 2
Universal Television presents the return of NBC's supernatural thriller Midnight, Texas to Comic-Con. Welcome back to a place where being normal is strange and only outsiders fit in. Based on the bestselling book series by Charlaine Harris (author of the novels that inspired True Blood) comes a journey into a remote Texas town where nothing is what it seems. Home to a psychic, vampire, witch, angel, and hitwoman, Midnight is a mysterious safe haven for those who are different-a perfect place for anyone looking to hide from the outside world. After defeating the demon Colconnar, the residents of Midnight try to go back to life as it was, but the balance they thought they were regaining becomes threatened with the opening of a mysterious new hotel in town. Join your fellow "Midnighters" for a sneak peek of season 2 and a Q&A session with the cast and producers: François Arnaud (The Borgias), Dylan Bruce (Orphan Black), Parisa Fitz – Henley (Harry and Meghan: A Royal Romance), Arielle Kebbel (The Vampire Diaries), Jason Lewis (Sex and the City), Peter Mensah (True Blood), executive producers David Janollari (Six Feet Under), Eric Charmelo (Supernatural), and Nicole Snyder (Supernatural).
Saturday July 21, 2018 2:45pm – 3:45pm
Room 6BCF
RZA: Movies, Music and Martial Arts
The maestro, the myth, the master known as RZA (The Man with the Iron Fists) is coming from Wu-Tang Mountain for a once-in-a-lifetime celebration of all great things . . . like his new movie Cut Throat City. Don't be surprised to see some of the all-star cast (Shameik Moore, Wesley Snipes, T. I., Terrence Howard, Demetrius Shipp Jr., Denzel Whitaker, Keean Johnson, Kat Graham), as well as exclusives and sneak peeks. It's RZA's amazing world, so bring your eyes, ears, heart, and soul to come experience it!
Saturday July 21, 2018 2:45pm – 3:45pm
Hall H
Explore the Wonders of the Universe with Cosmos: Possible Worlds
The Emmy Award-winning worldwide phenomenon Cosmos returns to Fox and National Geographic in Spring 2019. At this panel, get an exclusive sneak peek of Cosmos: Possible Worlds as host Neil deGrasse Tyson along with executive producer/writer/director/creator Ann Druyan and executive producers Seth MacFarlane, Brannon Braga, and Jason Clark discuss more on cosmic evolution and the great minds who've contributed to our understanding of the universe, and get a first look at the new season.
Saturday July 21, 2018 3:00pm – 3:50pm
Indigo Ballroom
20 Years of Magic: Inside Harry Potter
Hear from the artists and editor who brought Harry Potter to life, including Jim Kay (Harry Potter illustrated editions), Kazu Kibuishi (Harry Potter 15th anniversary edition cover artist), Brian Selznick (20th anniversary edition cover artist), Arthur A. Levine (editor, Harry Potter), and David Saylor (art director, Harry Potter). Panelists will discuss their process and inspirations working on the most magical books of all time. See a special message from Mary GrandPré, the original U.S. Harry Potter illustrator.
Saturday July 21, 2018 3:00pm – 4:00pm
Room 6DE
Page to Screen: The Darkest Minds
Bestselling author Alexandra Bracken (The Darkest Minds, Passenger) joins director Jennifer Yuh Nelson (The Darkest Minds, Kung Fu Panda) and cast (Amandla Stenberg, Harris Dickinson, Skylan Brooks, Miya Cech) for a look at the journey from YA novel sensation to summer blockbuster from 20th Century Fox.
Saturday July 21, 2018 3:00pm – 4:00pm
Room 25ABC
Supergirl Special Video Presentation and Q&A
Season 3 saw Supergirl stop Reign and the other Worldkillers' threat to humanity and our planet, and in the process Kara was shocked to find her mother Alura alive and living in a salvaged Argo City that survived the destruction of Krypton. Reconnecting with her past caused Kara to realize that her true home is now here on Earth, where big changes are taking place for her and all of her friends in National City and also, it appears, for a doppelganger in Russia! Season 4 promises to be full of surprises, action, adventure, and lots of big revelations for Supergirl, Alex, James, J'onn, Lena, and Brainy. The series' cast and creative team give a special video presentation, followed by a Q&A where they'll discuss what's to come and more! From Berlanti Productions in association with Warner Bros. Television, Supergirl's fourth season will premiere in its new Sunday 8/7c time slot on The CW this fall.
Saturday July 21, 2018 3:30pm – 4:15pm
Ballroom 20
The Orville
From Emmy Award-winning executive producer and creator Seth MacFarlane, The Orville is back for season 2! Some of the crew members of the U.S.S. Orville, including Seth MacFarlane, Adrianne Palicki, Penny Johnson Jerald, and Scott Grimes, along with executive producers David A. Goodman, Brannon Braga, and Jon Cassar, give an exclusive look at some of the new and exciting missions in the upcoming second season.
Saturday July 21, 2018 4:00pm – 4:50pm
Indigo Ballroom
EW: Women Who Kick Ass
A discussion among fierce, fearless actresses Chloe Bennet (Agents of S.H.I.E.L.D.), Regina King (Watchmen), Camila Mendes (Riverdale), Amandla Stenberg (The Darkest Mind), and Jodie Whitakker (Doctor Who), who open up about the power and privilege of playing women who redefine the rules and refuse to yield. Moderated by EW's Jessica Shaw.
Saturday July 21, 2018 4:00pm – 5:00pm
Hall H
Arrow Special Video Presentation and Q&A
There have been no shortage of close calls for Oliver Queen when it comes to protecting his superhero identity, but in the season 6 finale, he was finally backed into a corner and forced to reveal himself to the world as the Green Arrow. Now, Oliver will come face to face with many of the criminals he placed behind bars, as he makes a new home for himself at Slabside Maximum Security Prison. Oliver will find himself vulnerable in a way unlike ever before when a mysterious new enemy begins to unravel his work as Green Arrow, challenging him to redeem his name or risk losing everything. Join the cast and producers to be among the first to learn more about what this means for Oliver and the rest of his team. From Bonanza Productions Inc. in association with Berlanti Productions and Warner Bros. Television, Arrow will return to The CW this fall on Mondays at 9/8c.
Saturday July 21, 2018 4:15pm – 5:00pm
Ballroom 20
Batman: The Animated Series on Blu-ray
As the most acclaimed superhero animated television series in history, Batman: The Animated Series has captured the imaginations of generations with its innovative designs, perfect voices, and landmark approach to characters and stories. In late 2018, fans will finally be able to enjoy a remastered Blu-ray release from Warner Bros. Home Entertainment. Join many of the key forces behind Batman: The Animated Series for a celebration of the series and the first announcement of details of the upcoming Blu-ray box set. Panelists include producers Bruce Timm (Batman: The Killing Joke), Alan Burnett (Suicide Squad: Hell To Pay) and Eric Radomski (Batman: Mask of the Phantasm); 8-time Emmy Award-winning voice director Andrea Romano; actors Kevin Conroy, the fan-favorite voice of Batman, and Loren Lester (Rock 'n' Roll High School), voice of Robin; and some other beloved Bat-surprises.
Saturday July 21, 2018 4:15pm – 5:15pm
Room 6DE
The Man in the High Castle
The Man in the High Castle is back to preview its third upcoming season on Prime Video. This panel features cast and creator discussion, exclusive sneak peeks, and audience Q&A. Panelists will include Alexa Davalos (Mob City), Rufus Sewell (Victoria), Stephen Root (Dallas & Robo), and Jason O'Mara (Marvel's Agents of S.H.I.E.L.D.), along with executive producer Isa Dick Hackett (Philip K. Dick's Electric Dreams) and Dan Percival (Strike Back).
Saturday July 21, 2018 4:15pm – 5:15pm
Room 6A
DC's Legends of Tomorrow Special Video Presentation and Q&A
After defeating Mallus by cuddling him to death with a giant stuffed animal named Beebo, the Legends were ready to ease off the gas. That was until Constantine arrived to inform them that, in solving one major problem, they have created another, much larger one. When the Legends let time crumble in order to release and defeat Mallus, the barrier between worlds softened. History is now infected with "Fugitives," magical creatures from myths, fairytales, and legends. Having been expelled throughout time by people like Constantine, these Fugitives are now returning to our world in droves and making a real mess of things. So when all hell breaks loose, who ya gonna call? That's right, the Legends! Join the cast and creators of The CW's zaniest superhero series at their annual Comic-Con panel for an in-person look at what makes this time-traveling crew tick. From Berlanti Productions in association with Warner Bros. Television, DC's Legends of Tomorrow will return to The CW this fall on Mondays at 8/7c.
Saturday July 21, 2018 5:00pm – 5:45pm
Ballroom 20
Deadpool 2 Panel
Prepare for the ultimate superhero landing as Deadpool and pals drop into Hall H for an hour of maximum effort. Expect dirty jokes, broken fourth walls, maybe some spandex, and real, live unicorns!* *Panel may not actually include mythical creatures.
Saturday July 21, 2018 5:15pm – 6:15pm
Hall H
The Purge: From Film to Television
Cultural phenomenon The Purge comes to San Diego Comic-Con in a major way. Jason Blum, founder of Blumhouse Productions, and creators of the blockbuster film franchise share an exclusive inside look at how they are expanding the universe into TV with USA Network this Fall. Cast from the latest film The First Purge and the upcoming TV series will join the creative team with their own unique perspectives on the world of The Purge. The television series picks up 10 years after the events of The First Purge and will follow several seemingly unrelated characters whose stories all connect in a mysterious way as they discover how far they'll go to survive The Purge.
Saturday July 21, 2018 5:15pm – 6:15p
Room 6BCF
Costume Concept Art for Film and Television
Costume Designers Guild members Alan Villanueva (costume concept artists, Titans, Black Lightning, The Nutcracker and the Four Realms), Greg Hopwood (costume concept artist, Supergirl, The Gifted, Krypton), Luca Nemolato (The Shape of Water, Westworld, Guardians of the Galexy Vol. 2), Oksana Nedavniaya (costume concept artist, Aquaman, Suicide Squad, Bright), and Phillip Boutte, Jr. (costume concept artist, Black Panther, Captain Marvel, Avengers: Infinity Wars) discuss the process behind creating concept art for some of the most exciting productions on television and in film. The concept artists will also take questions from the audience.
Saturday July 21, 2018 5:30pm – 6:30pm
Room 8
Netflix: Matt Groening's Disenchantment
Netflix and Matt Groening give a special sneak peek at the animation legend's newest and much anticipated series, Disenchantment. Get whisked away into the crumbling medieval kingdom of Dreamland, where Matt tells the misadventures of hard-drinking young princess Bean, her feisty elf companion Elfo, and her personal demon Luci. The cast and creators will be in attendance to show you an exclusive first look and answer all of your burning questions about this much anticipated television series.
Saturday July 21, 2018 5:30pm – 6:30pm
Room 6A
The Flash Special Video Presentation and Q&A
Matching wits with The Thinker, who by season's end had harnessed the powers of all 12 bus metas he created, stretched Team Flash to its limits, but with the help of some new allies, Barry Allen (a.k.a. The Flash) and company were able to put a stop to the Enlightenment and save Central City once again. However, with the arrival of Barry and Iris's speedster daughter Nora, who appears from the future admitting to having made a "big mistake," things are anything but status quo. Will parenthood be the challenge that finally slows the Flash down? For answers to this and all your other season 5 questions, please join the cast and creators of The CW's highest-rated series at their annual Comic-Con panel. From Bonanza Productions Inc. in association with Berlanti Productions and Warner Bros. Television, The Flash will return to The CW this fall on Tuesdays at 8/7c.
Saturday July 21, 2018 5:45pm – 6:30pm
Ballroom 20
Sketch to Screen: Ready Player One, Rampage and Beyond
Visionary concept artist Aaron Sims (Stranger Things, Planet of the Apes trilogy) and the Aaron Sims Creative artist team reveal the secrets behind character and world-building concept designs, previsualizations, and visual effects for some of the most iconic film and television franchises of our generation. Through a series of 3D models, animatics, and breakdowns, they'll demonstrate how your favorite superheroes, villains, and monsters are brought to life from sketch to screen.
Saturday July 21, 2018 6:30pm – 7:30pm
Room 7AB
HISTORY: Project Blue Book
From Academy Award and Golden Globe winner Robert Zemeckis (Forrest Gump, Back to the Future, Contact), Project Blue Book is based on the true, top-secret investigations into unidentified flying objects (UFOs) and related phenomena conducted by the United States Air Force from 1952 to 1969. Series stars Aidan Gillen (Game of Thrones), Michael Malarkey (The Vampire Diaries), Neal McDonough (Arrow, Legends of Tomorrow), and Laura Mennell (Alphas, Watchmen), along with producers, share what's to come in this highly anticipated new drama series and reveal an exclusive sneak peek of the first season. Cast subject to change.
Saturday July 21, 2018 6:45pm – 7:45pm
Room 6A
IDW Entertainment and SyFy: Wynonna Earp
he cast and creators of the breakout SYFY hit series Wynonna Earp, including Melanie Scrofano, Shamier Anderson, Tim Rozon, Dominique Provost-Chalkley, Katherine Barrell, Varun Saranga, and Chantel Riley along with show runner Emily Andras, and comic creator Beau Smith reveal behind-the-scenes antics, show off exclusive footage, and answer your biggest questions about season 3!
Saturday July 21, 2018 6:45pm – 7:45pm
Room 6DE
An Evening with Kevin Smith
If you're into it, Kevin Smith wants to use his mouth on you. The podcasting director returns to the Hall H stage after nearly dying of a heart attack back in February! Hear him talk about directing Supergirl and Flash, his new show Hollyweed, and the forthcoming sequel, Jay & Silent Bob Reboot!
Saturday July 21, 2018 6:45pm – 8:15pm
Hall H
The Magicians
Magic is back . . . at Comic-Con! Last season, an epic finale totally changed our magicians (like for real) and left audiences begging for more. Now, join the cast and creators of this critically acclaimed series to get an exclusive look at the upcoming 4th season and answers to all of your burning questions (well, most of them)!
Saturday July 21, 2018 7:00pm – 7:50pm
Indigo Ballroom
Studio Ghibli My Neighbor Totoro Screening
Celebrate the 30th anniversary of My Neighbor Totoro, the classic animation film of childhood adventures and friendship in a magical forest. Join Her Universe and Hot Topic for Studio Ghibli trivia, prizes, and a special screening of this delightful tale. Hosted by Her Universe founder Ashley Eckstein.
Saturday July 21, 2018 7:00pm – 9:15pm
Horton Grand Theatre
25 Years of The Nightmare Before Christmas with D23: The Official Disney Fan Club
D23 pulls the curtain back on the classic stop-motion Halloween (and Christmas!) favorite, Tim Burton's The Nightmare Before Christmas. Watch a retrospective panel featuring the team that brought the movie to life 25 years ago, including Henry Selick (director), Kelly Asbury (art director), Edie Ichioka (editor), and Anthony Scott (animator).
Saturday July 21, 2018 7:45pm – 8:45pm
Room 6BCF
Twin Peaks and the Revival of a Cult Classic
Jessica Tseang (comic book historian, Girl on Geek) talks with cast members from both the new and original series, Mädchen Amick (Shelly Briggs/Shelly Johnson), Sheryl Lee (Laura Palmer/Carrie Page/Maddy Ferguson), Sherilyn Fenn (Audrey Horne), Kimmy Robertson (Lucy Brennan/Lucy Moran), Harry Goaz (Deputy Andy Brennan), James Marshall (James Hurley), Adele Rene (Lt. Cynthia Knox), Chrysta Bell (FBI Agent Tammy Preston), Nicole LaLiberte (Darya), John Pirruccello (Deputy Chad Broxford), Amy Shiels (Candie), George Griffith (Ray Monroe), and Sabrina Sutherland (executive producer), about how the show has evolved and the passion behind the fandom.
Saturday July 21, 2018 8:00pm – 8:50pm
Indigo Ballroom
Deadpool 2 Screening
Deadpool is bringing a little something special to Comic-Con. Be the first to see a special screening of Deadpool 2 and maybe some surprises. Deadpool costumes are encouraged, but not required, but give it your maximum effort.
Saturday July 21, 2018 10:00pm – 12:00am
Horton Grand Theatre
***
For even more panels happening at the 2018 San Diego Comic-Con, check out the full schedule over here.
The post Comic-Con 2018 Schedule For July 21 Includes 'Deadpool 2' Uncut Screening, Warner Bros. Panels & More appeared first on /Film.